2022-2023 Academic Catalog
[ARCHIVED CATALOG]
2022-2023 Academic Catalog
---
 [Archived Academic Catalogs Prior to AY 2011-2012, may be requested by contacting the Office of the Registrar]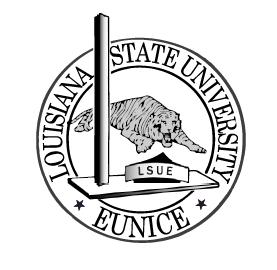 2022-2023 
Volume 54, July 2022
Last update: 
Accreditation
Louisiana State University at Eunice is accredited by the Southern Association of Colleges and Schools Commission on Colleges (SACSCOC) to award associate degrees. Degree-granting institutions also may offer credentials such as certificates and diplomas at approved degree levels. Questions about the accreditation of Louisiana State University at Eunice may be directed in writing to the Southern Association of Colleges and Schools Commission on Colleges at 1866 Southern Lane, Decatur, GA 30033-4097, by calling (404) 679-4500, or by using information available on SACSCOC's website (www.sacscoc.org). Updated on 2/3/2023
Normal inquiries about Louisiana State University at Eunice such as admissions, financial aid, and educational programs should be directed to 337-457-7311. 
Student Responsibility
Each student is personally responsible for completing all requirements established by the campus for his or her degree. It is the student's responsibility to inform himself or herself of these requirements. A student's advisor will not assume these responsibilities. Any substitution, waiver, or exemption from any established requirement or academic standard may be accomplished only with the approval of the Vice Chancellor for Academic Affairs.
This catalog contains the current curricula, educational plans, offerings, and requirements which may be altered from time to time to carry out the purposes and objectives of LSU Eunice. The provisions of this catalog do not constitute an offer for a contract which may be accepted by students through registration and enrollment at the campus. LSU Eunice reserves the right to change any provision, offering, or requirement at any time within the student's period of study at the campus. The LSU Eunice further reserves the right to require a student to withdraw from the campus for cause at any time.
Affirmative Action/Equal Opportunity Policy
Louisiana State University Eunice adheres to the principle of equal education, employment, and promotion opportunity without regard to race, creed, color, national origin, sex, age, disability, veteran's status, sexual orientation, or gender identity. The University is dedicated to the philosophy of providing opportunity for full participation and representation in all segments of its operation to every individual who possesses the required training and experience.
The University will provide equal opportunity for all qualified and qualifiable persons and will promote the realization of equal opportunity through positive, continuing training programs in all applicable departments. This policy of equal opportunity applies to everyone and is regulated by the requirements of the University's Affirmative Action Plan; Louisiana Executive Order 13, dated 24 September 1965; and 11375, dated 13 October 1967, as amended; Title VI, Civil Rights Act of 1964; the Equal Employment Opportunity Act of 1972; and Title IX of the Higher Education Act of 1972. The University has designated an individual to coordinate the campus' nondiscrimination efforts to comply with regulations implementing Title VI, VII, IX, and Section 504. Inquiries regarding nondiscrimination policies and practices may be directed to the Special Assistant to the Chancellor for Affirmative Action-Equal Employment Opportunity / Title IX Coordinator, LSU Eunice, P.O. Box 1129, Eunice, LA 70535, (337) 550-1203.
---